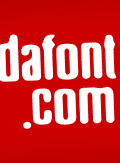 I've been playing around this morning with fonts. Free fonts online in fact. I'm in love with the fonts from dafont.com. So edgy and grungy. Just up my alley!
I especially fell in love with this font called, Dirty & Classic. Here's my logo in that font:
I went searching because today I'm working on a custom order for a client. It's all hush-hush now, but I'll share it with you eventually !
I'm also planning a re-do of some vintage chairs that have this great spot on the back for some monogram or image. I can't decide what to put on there. Since I don't know who'll buy them, a monogram is out of the question... but I'm considering one of these images. Mod and edgy. What do you think?